Indoor Batting Cages
For Baseball & Softball
Indoor batting cages can come in nearly any size or layout. To ensure you get the perfect custom batting cage for your facility, make sure to work with our indoor batting cage experts.
They will ensure you get the best custom indoor batting cage for your space. On Deck Sports can help design a custom shell net batting cage with divider curtains, fit your area with a retractable cages and more. We have helped thousands of customers fit the perfect batting cage into their building – from single-lane batting cages to massive multi-batting tunnel areas. While we do offer pre-sized cages, our specialty is creaing a custom batting cage or batting cage nets for your building. Contact one of our experts to get your custom batting cage.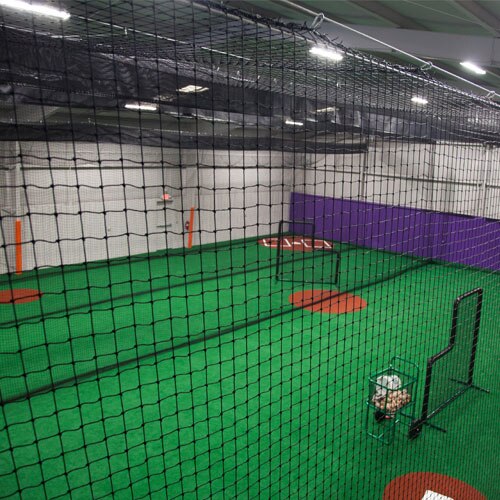 Custom Shell Net Batting Cage
This is our specialty. Our experts have helped design and install thousands of custom shell net batting cages. Our shell nets attach to your walls and surround your area with durable netting. We can make a single cage or add sliding divider nets that create multiple batting tunnels out of one shell net. We will work with your space to create a custom batting cage that is safe, reliable and looks great.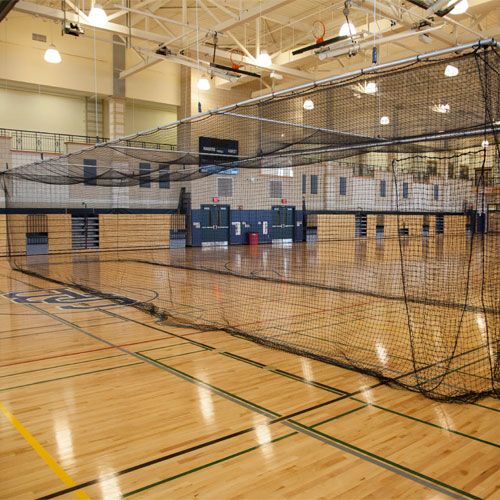 Motorized Retractable Batting Cage
A great solution for schools, gyms and multi-purpose facilities, our retractable ceiling cages are attached to your ceiling and raised and lowered by a power winch. This allows you to train in a full cage, then open your gym or indoor facility back up after batting practice. It is made with the same durable netting and pipes as our other indoor batting cage systems. Check out our video outlining the process of using your new retractable cage (below).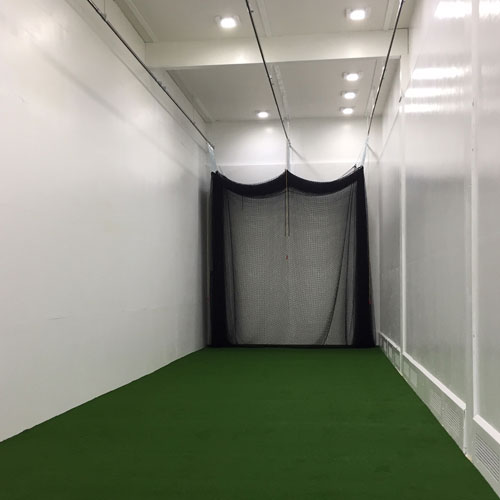 Walk-Draw Batting Cage
Our walk-draw retractable batting cages are the perfect solution for multi-purpose facilities. The netting runs on cables and can be pulled out for easy use and returned to the wall for storage. Increase the productivity of your facility with a quick and easy transition from batting to fielding practice or between sports.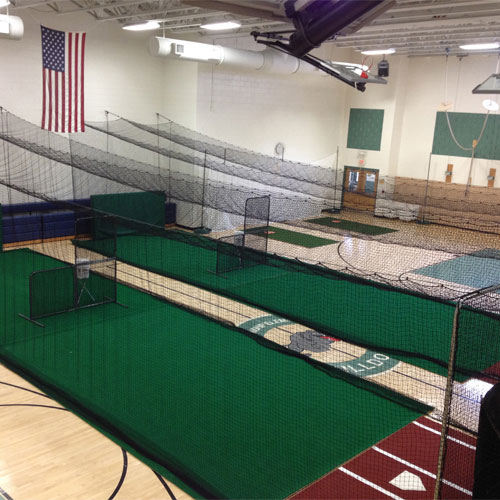 Phantom Tension Batting Cage
The Phantom Batting Cage is the perfect batting cage for your gym. It takes two people less than five minutes to set up, and when it's down you have nothing hanging from your ceiling. Pairs perfectly with our artificial turf to create a full batting cage experience in your gym.
Dimensions: 14'W x 14'H. Available in 55' & 70' lengths.
On Deck Sports Indoor Facility Project Services Information
On Deck Sports: Retractable Ceiling Batting Cages for Gyms & Indoor Sports Facilities
Indoor Batting Cage Request
Need More Information? Fill Out Our Form Below And One Of Our Experts Will Be In Touch As Soon As Possible!