Outdoor Batting Cage Solutions
For Baseball & Softball
On Deck Sports has provided baseball & softball teams and players the highest quality batting cages, frames, and netting since 2001.
On Deck Sports wants to ensure that your outdoor batting cage can stand the test of time. Our durable batting cage frames and nets will withstand heavy use and the elements. We have the perfect batting cages for every level from backyards to professionals – and the equipment to stock your cage for the best training experience. You can choose from a variety of prebuilt cages that just require a quick set up, or work with us to design your own custom outdoor batting cage. We also carry new batting cage nets if you need to replace yours – ensuring a safe, effective batting cage.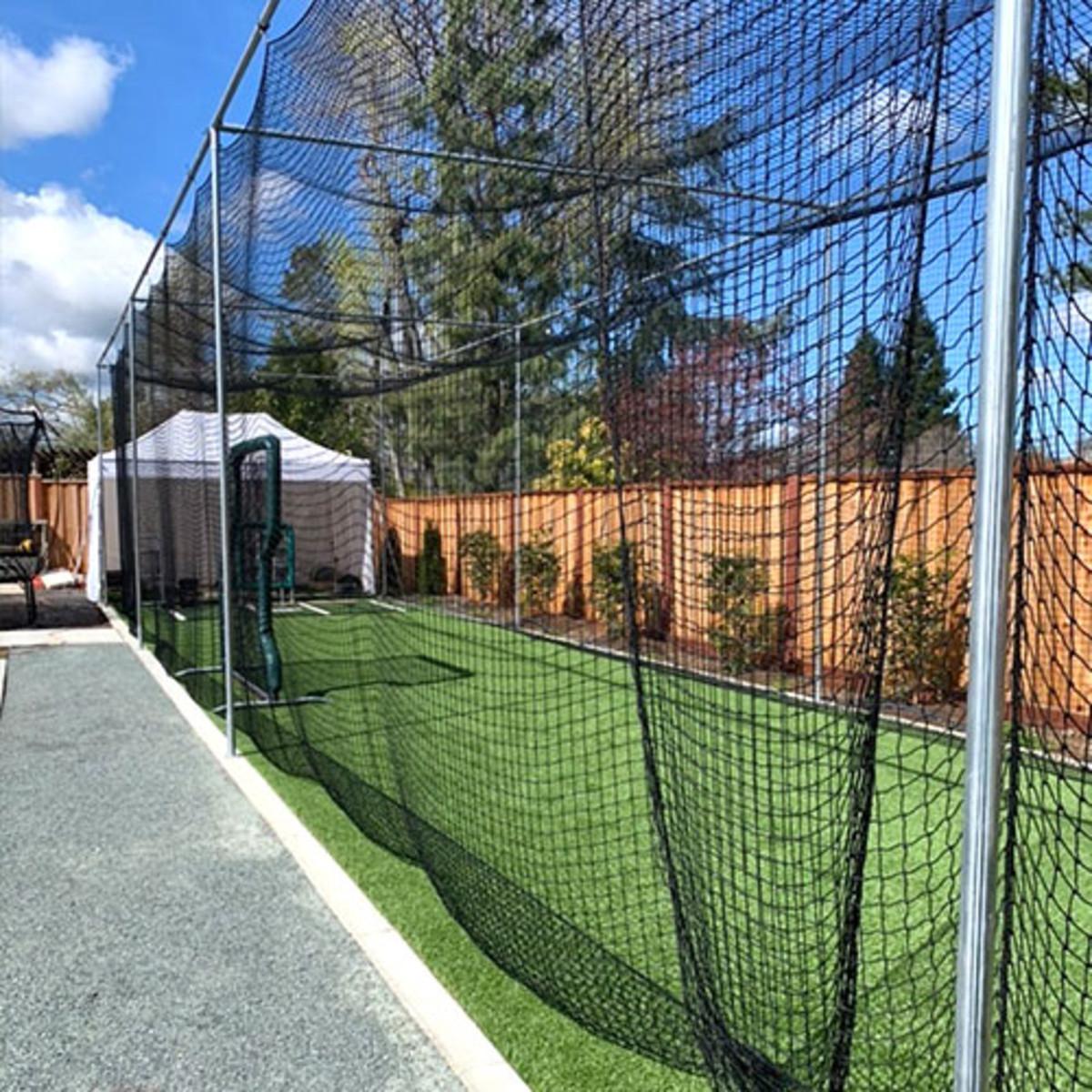 Universal Batting Cage Kit
The Universal Batting Cage is the perfect solution for backyards, youth leagues, high schools, or colleges - making it the most versatile batting cage on the market. This batting cage kit comes complete with piping, netting, ground sleeves and all hardware needed for easy installation. Your choice of "universal" ground sleeves makes this a flexible fit for any facility or backyard.
Dimensions: 12'H x 14'W. Available in 35', 55' & 70' lengths.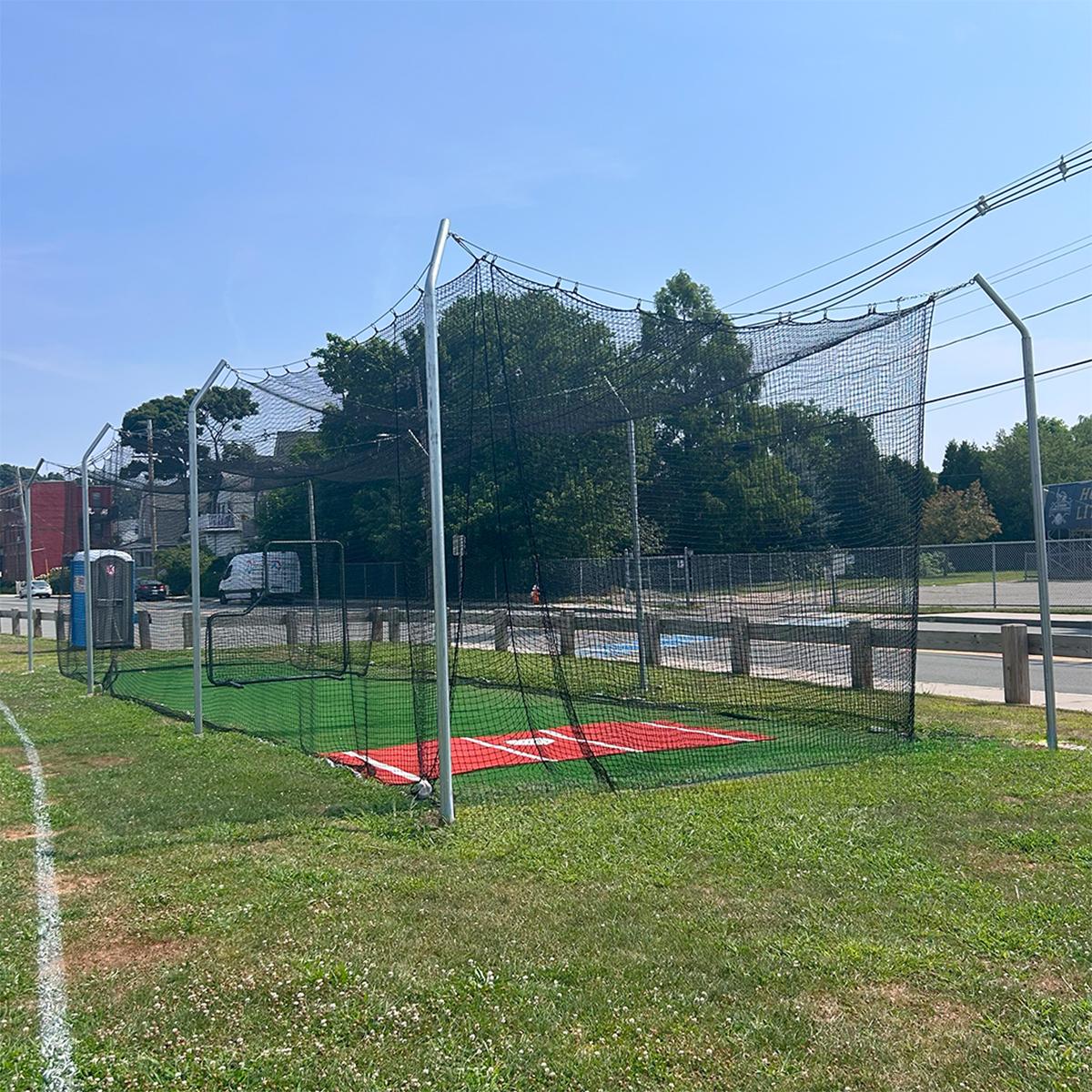 Commercial Batting Cage Kit
Manufactured with heavier tubing and commercial grade netting, this batting cage is made like the cages professionals use. Perfect for youth leagues, high schools and colleges. The netting has a lead core rope around the bottom perimeter to keep the netting in place and provide a safer cage. Available in 55' and 70' lengths or as a Double Commercial Batting Cage Kit with two cages connected side by side.
Dimensions: 12'H x 14'W. Available in 55' & 70' lengths.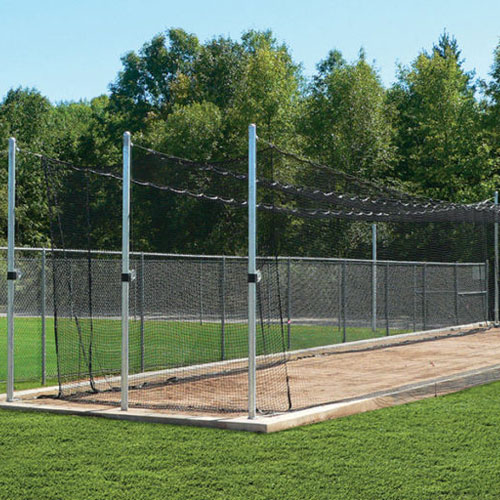 Tuff Frame Elite Batting Cage System
This outdoor batting cage is like no other due to its exclusive FuseLink Overload Protection System, protecting your batting cage from unexpected wind and ice overload. This cage will easily raise and lower from the ground with removable, easy-to-use winch system handles. No ladders needed! This cage has three poles on each end which avoids a ricochet hazard. Add options ground sleeves (1 per pole) to streamline.
Dimensions: 12'H x 14'W. Available in 55', 70'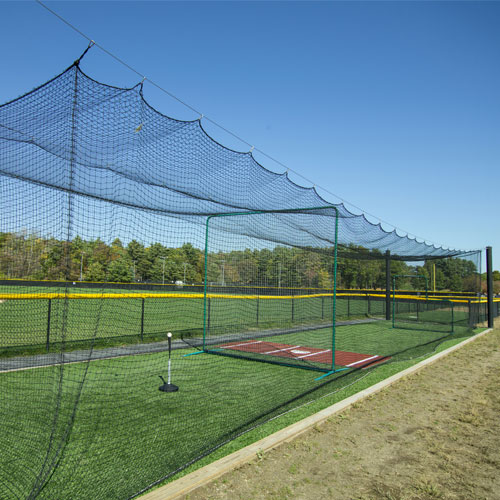 Mastodon™ Batting Cage System
The Mastodon™ Batting Cage System uses fewer components but maintains the strength of other batting cages. It has a free span of up to 85 feet but does not sag. Heavy duty 3/16" galvanized aircraft cable and galvanized steel carabiners hold the nets up while a cable tensioning system prevents sag in your nets. The system comes in a single or double-wide setup that can vary in length from 55' to 75' to fit your baseball or softball field. Also available in 12' and 14' heights, giving you the most setup options for your batting cage.
Dimensions: 12' or 14'H x 14'W. Available in 55', 70' & 75' lengths.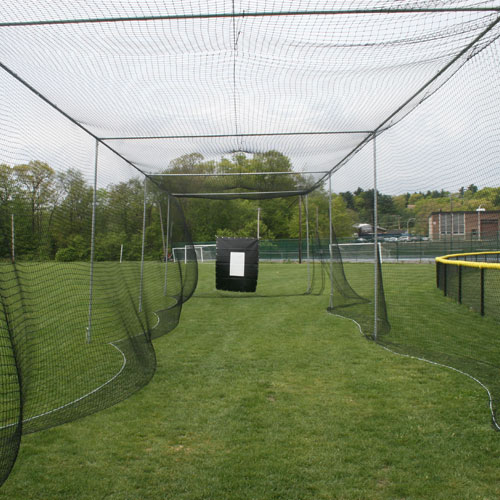 Batting Cage Nets
On Deck Sports offers both poly and nylon batting cage nets that are perfect for upgrading or replacing your worn nets. Available in 35', 55' & 70' lengths, we have the nets you need to keep your batting cage safe year in and year out.
Dimensions: 12'H x 14'W. Available in 35', 55' & 70' lengths.
Baseball & Softball Equipment Request
INFORMATION REQUEST FORM
Need More Information? Fill Out Our Form Below And One Of Our Experts Will Be In Touch As Soon As Possible!